Drawing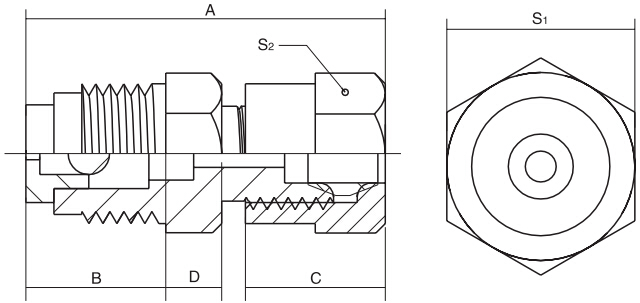 Profile and installation dimensions
| | | | | | | | |
| --- | --- | --- | --- | --- | --- | --- | --- |
| Item No. | A | B | C | D | M | S₁ | S₂ |
| HY8318.15\HDT410 | 27 | 10 | 10 | 5 | 8x1 | 10 | 10 |
Usage and characteristics
◇ HDT.HGP dividing non-return oil outlet device is mainly applied to the circumstance with low fixed-point and low fixed-quantity demand.
◇ When the lubricating pump pumps,the oil outlet device on each point,according to the pressure oil provided by the pump,goes through each joint,
opens interior ball valve and the compressed spring and lastly begins to distribute lubricant to the lubrication point.
◇When the pump stops working,the interior ball valve and the pressured spring in the oil outlet device reset to close the outlet opening,making sure
that the oil doesn't flow backward to the tank and that it can reach the lubrication point on time next time when the oil is delivered.
◇ Advantage: no blocking; large oil flow; convenient installation; low cost, etc.
◇ Connection: it can be connected to TL connector or directly connected to the lubrication hole.
◇ Joint types of the connecting pipes: card set type rigid pipe connection; card expansion type flexible pipe connection.

Profile and installation dimensions
| | | | | | | |
| --- | --- | --- | --- | --- | --- | --- |
| Item No. | A | B | C | D | S₁ | Φ |
| HY8318.15\HGP410 | 27 | 10 | 8.5 | 5 | 10 | 2.5 |